clear removable aligners
Clear aligners offer a discreet and removable solution to straighten teeth. Customized to snugly fit your teeth, they shift them gradually into their ideal positions. While effective, they're not suitable for everyone. A consultation with your orthodontist can determine their suitability for you.
How Clear Aligners Work
Unlike traditional braces with wires and brackets, clear aligners apply gentle pressure on teeth using strong, custom-fitted plastic trays. As you progress in treatment, you'll transition to new aligners, each designed to move your teeth incrementally.
Typically, aligners should be worn for at least 20 hours daily and are replaced every two weeks. Treatment duration varies, ranging from six months to two years, based on individual needs.
Advantages of Clear Aligners:
Hygiene: Clear aligners are simple to clean, promoting better oral health.
Comfort: They're less likely to cause discomfort or irritate the mouth.
Protection: They can guard against teeth grinding.
Convenience: Being removable facilitates easy brushing and flossing after meals.
If you're curious about transitioning to clear aligners, arrange a consultation. It's the initial step towards attaining the radiant smile you desire.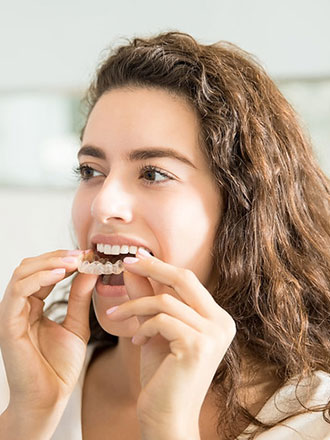 more topics