Orthodontic FAQs
What exactly is orthodontics?
Orthodontics, often called dentofacial orthopedics, is a branch of dentistry dedicated to correcting dental and facial discrepancies.
Who is an orthodontist?
An orthodontist is a dentist who undergoes an additional 2-3 years of specialized training, focusing on straightening teeth and resolving jaw alignment issues.
When's the ideal time to consult an orthodontist?
The American Association of Orthodontists suggests the first visit at age seven. However, orthodontics is beneficial for all ages, and interestingly, one in every five orthodontic patients is an adult.
How should I maintain dental hygiene with braces or a retainer?
Brush after each meal and floss daily. Use a fluoride toothpaste. Handle your retainer with care and avoid foods that are sugary, sticky, or might damage your braces. Regularly see your dentist—every six months is a good rule.
Can you explain the types of braces available?
Certainly! Braces come in various forms, including clear, ceramic, lingual (inside-facing), self-ligating, invisible aligners, and classic metal braces.
How long will I need to wear braces?
It varies, but on average, braces are worn for about 22 months. Depending on individual needs, the duration can be between six and 30 months.
Is wearing braces painful?
Not really. You might feel slight discomfort or tenderness initially as you adjust, but this feeling is temporary.
Do I need to adopt a different brushing routine with braces?
Yes, it's recommended to brush at least three times daily and floss once to prevent food from getting trapped. Your orthodontist can provide more specific care guidelines.
Should I continue my regular dental checkups while wearing braces?
Definitely. Regular checkups are crucial when you have braces to ensure your teeth remain healthy, especially since braces can trap food particles.
Will braces affect my participation in school activities?
No, you can continue with all activities. If you're involved in contact sports, consider wearing a mouthguard to protect your braces.
How can I arrange my next appointment?
It's simple. Just call our office, and our team will assist you. If you're a new patient or have a referral, please let us know for specialized guidance.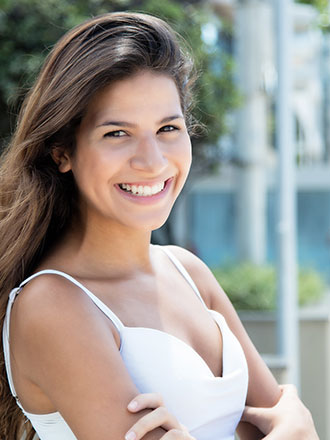 more topics