Ortho Dictionary
Appliance:
Tools affixed to teeth, designed for the alteration of tooth position or the adjustment of jaw structure.
Archwire:
A wire changed at intervals to guide teeth as they shift.
Band:
A circular structure, it offers a foundation for the brackets on the teeth.
Bond:
The specialized cement that secures orthodontic appliances.
Bracket:
A fixture (metal or ceramic) on the tooth that anchors the archwire.
Coil Spring:
Situated between brackets, its purpose is to generate spaces between teeth.
Elastic (Rubber Band):
Small bands are used to exert pressure, aiding in repositioning teeth.
Elastic Tie:
Colored bands wrapped around brackets, ensuring the archwire stays in place.
Headgear:
A framework aimed at aligning the jaw and face by exerting gentle force.
Headgear Tube:
A receptacle on the back bands that accommodates the headgear's inner bow.
Hook:
A protrusion, fixed or detachable, designed for attaching elastics.
Ligature:
A slender piece of wire that secures the archwire to the bracket.
Lip Bumper:
Device attached to the lower jaw's archwire, ensuring molars are held back to create space.
Mouthguard:
Protective equipment used during activities to prevent potential oral injuries.
Palatal Expander:
Tool designed to widen the upper jaw, adjusting its size.
Retainer:
A post-brace device that ensures teeth maintain their corrected positions.
Separator or Spacer:
Tiny rings that create gaps between teeth, facilitating other tools' attachment.
Tie Wire:
A fine wire that helps secure the archwire to the bracket.
Wax:
Soft material used to shield lips from potential brace irritations.
Orthodontic Procedures
Banding:
The procedure of attaching and securing orthodontic bands to teeth.
Bonding:
The act of affixing brackets onto teeth using specialized adhesive.
Cephalometric X-ray:
Radiography that captures the entire head, indicating facial structures, teeth, and jaws.
Consultation:
A dedicated session for discussing and outlining the orthodontic plan.
Debanding:
Procedure for detaching orthodontic bands from teeth.
Debonding:
The act of extracting cemented brackets from teeth.
Impressions:
An imprint of the dental structure utilized to strategize treatments.
Invisalign®:
Transparent aligners offering a subtler alternative to traditional braces for certain dental misalignments.
Ligation:
The act of binding the archwire to teeth brackets.
Panoramic X-ray:
Radiography showing a comprehensive view of teeth, jaws, and neighboring structures.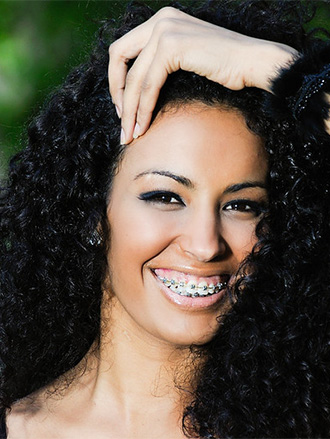 more topics