CLEAR BRACES
Modern orthodontics offers alternatives to the traditional metal braces, such as braces made from clear or natural tooth-colored materials. These offer a discreet way to align teeth.
What is the difference between clear braces and clear aligners?
Clear braces function like metal ones but are less visible. On the other hand, clear aligners are hard plastic mouthguard-like pieces, ideal for minor adjustments.
Advantages and Disadvantages of Clear Braces:
Advantages:
Appearance: They are less visible than metal braces, providing an aesthetic choice.
Confidence: Patients often feel better knowing their braces aren't the focal point of their smile.
Disadvantages:
Cost: They might be pricier than metal braces. It's essential to discuss financial options with your orthodontist.
Discoloration: Clear ties may stain with certain foods, drinks, or smoking.
Treatment Time: Using them might extend treatment duration compared to metal braces.
Is this the right choice for me?
Consult your orthodontist to determine the best option for you. They can provide more information and address any concerns, ensuring you make an informed decision. If you're considering clear or ceramic braces, schedule a consultation to explore further.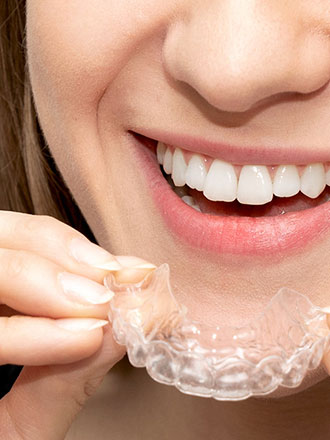 more topics