Orthodontic Retention
Maintain Your Radiant Smile Post-Braces
Congratulations on achieving that stunning, straight smile! But remember, the journey doesn't end when the braces come off. To ensure your teeth stay in their new position, a retainer is essential. It helps stabilize your teeth as the surrounding tissues adapt to their new alignment.
Kinds of Retainers
1. Removable Retainers: These can be taken out during meals and oral care routines. They typically come in two styles:
Traditional: Features a metal wire across the front teeth linked to an acrylic arch in the mouth's roof. It can be adjusted to refine tooth alignment.
Aligner-style (Essix) Retainers: These resemble clear aligners and are less conspicuous than wire retainers. They can cover all your teeth or just specific ones based on a mold of your newly straightened teeth.
2. Fixed Retainers: These are wires bonded to the back of your teeth, usually maintained for at least a year post-braces but often kept lifelong.
Advantages and Drawbacks
Removable: Offers flexibility but can be misplaced. Always store in its case when not in use.
Fixed: Ideal for those who prefer not to monitor wear time. However, they demand extra care during dental hygiene, especially when flossing. Floss threaders might be required to clean around them.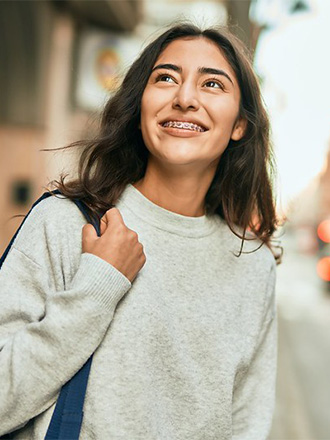 more topics