Metal Braces
Metal braces, often chosen for their effectiveness, have evolved to be smaller, flatter, and more comfortable than earlier versions. They're a popular choice among patients seeking a straighter smile.
What Braces are Made Of
Metal braces consist of:
Brackets: Attached to teeth with a special adhesive.
Archwire: A thin wire connecting brackets, guiding teeth into position.
Ligature Elastic (or "rubber bands"): Colored ties binding the archwires to the brackets. They're changed during appointments and come in various colors.
How Braces Work
Braces exert constant pressure on teeth. This pressure, adjusted during appointments, moves the teeth to their desired positions. Some patients might also require rubber bands or headgear. It's not uncommon to feel teeth slightly loose during the process, but this sensation subsides once movement ceases.
Metal Braces for All Ages
Being the most favored, efficient, and cost-effective option, metal braces suit many orthodontic needs. Consult your orthodontist for personalized advice. To discover how metal braces could benefit you, consider booking an appointment.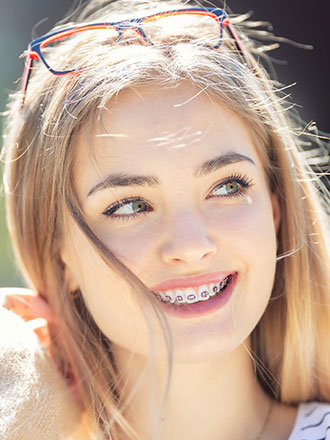 more topics