Life with Braces
Eating with Braces:
Hold off on popcorn and chips for now. Some foods can harm your braces, so be cautious. Avoid chewy items like bagels, crunchy things like ice, sticky sweets like caramel, hard foods like nuts, and anything you have to bite into directly, like apples. However, you can enjoy soft cheese, pudding, soft tortillas, pancakes, soft chicken, meatballs, tuna, mashed potatoes, applesauce, and treats like milkshakes.
Dealing with Soreness:
Initial soreness with braces is typical. Ease discomfort by gargling with a saltwater mix (a teaspoon of salt in eight ounces of lukewarm water). For persistent pain, consider pain relievers. If braces cause irritation, use wax to reduce tenderness. Ask us if you need any!
Loose Teeth:
Feeling your teeth loosen? It's expected; braces need to loosen teeth to reposition them. They'll stabilize after moving.
Issues with Wires and Bands:
Loose wires or bands? Contact us for a fix. If a part detaches, keep it for our reference. For temporary relief, adjust a misaligned wire with a spoon's back or a pencil's eraser. If a wire irritates, apply wax or a wet cotton ball for relief.
Appliance Care:
Protect your orthodontic appliances. Prolonged treatment can result from damaged gear. Ensure consistent use of rubber bands, retainers, or any prescribed tools for best results.
Sports and Braces:
Athletes, rejoice! You can play sports with braces. Use a mouthguard for protection. If an injury occurs, inspect for damage and contact our office. Use wax or warm salt water rinses for immediate relief.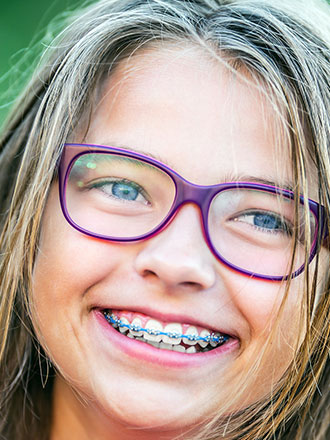 more topics